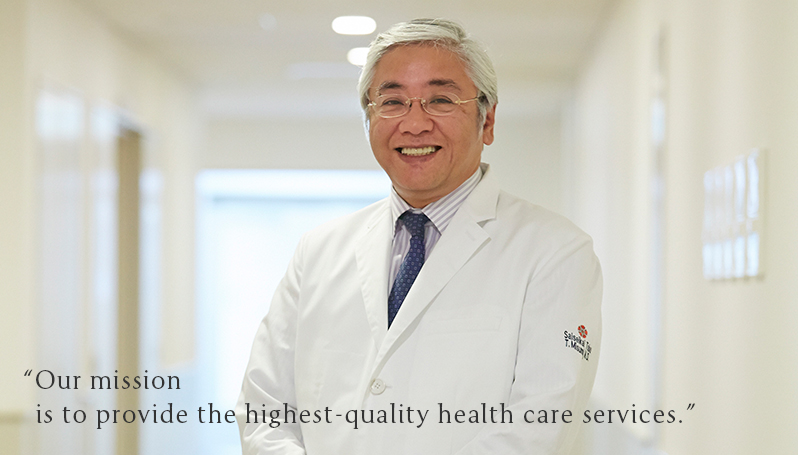 Since opening in March 30, 2007, our hospital and staff have worked to establish the hospital a core hospital of the community. I succeeded Dr. Takeo Kawashiro as the second president of this hospital on April 1, 2011. I wish to thank the hospital staff, community members, and regional health care professionals for their contributions and support for our hospital over the years.
Our hospital is a core hospital serving Yokohama City and was established as a part of the Imperial Gift Foundation, Inc., offering advanced and specialized medical care, as well as emergency medical care. To assist the municipal health and welfare programs, the hospital also provides psychiatric emergency services and facilities for people with special needs. We also have introduced disease-specific treatment centers with continuous support from surgeons and internists in order to support personalized and optimized treatment plans for each patient.
We aim to deliver health care services equally to all patients. Our patients receive comprehensive, interdisciplinary care, supported by multidisciplinary teams that are patient-centered, which encourages the participation of individual patients and their relatives. We also strive to establish a close-knit coordination with regional health care providers. We hope that our efforts will contribute to a community that offers worry-free health care.
Our mission is to provide the highest-quality health care services. We have also committed to a training future generations as excellent health care professionals. In addition to establishing an organizational system to promote the professional development of all staffs including physicians, we have been actively working to improve working conditions and job satisfactions.
We pledge to be a health care partner you can trust, with cooperation of all staff members, and we look forward to serving you all.
Saiseikai Yokohamashi Tobu Hospital President
Takahiko Misumi
Our Belief
Saving Lives Through High Quality Medical Care
 Reliable Medical Care
 Patient-friendly
 Cutting-edge
 Beneficial to the local community
Basic Principles
1.Improve the Quality of Medical Care
 ーWe deliver high quality and safe medical treatments.
2.Improve the satisfaction of patients and their families
   ーWe provide medical and other health care services that patients can trust.
3.Encourage patient participation in medical care
 ーWe respect patient rights.
4.Provide advanced acute and specialized medical care
 ーWe offer comprehensive health care plans linked to social welfare programs.
5.Be a preferred community hospital
 ーWe establish partnerships with local residents and health care providers in the community.
6.Provide optimal job satisfaction
 ーWe develop professional human resources and improve job satisfaction.
7.Ensure stable financial management
 ーWe run the hospital on a financially sound basis.