TOBU Cancer center

Treat as a person, not a patient. I want to provide such cancer treatment.
Nowadays, one in two people will develop cancer and one in three will die of cancer.
Cancer patients need advanced treatment such as surgery, radiation therapy, and anti-cancer drug treatment, and life problems such as employment and child-rearing must be solved. To do them you need to be a hospital with many advanced features and a lot of staff. The national government has designated such hospitals as "Cancer Medical Cooperation Hub Hospital".
Our hospital was designated by the national government as a "regional Cancer Medical Cooperation Hub Hospital" in August 2014. TOBU Cancer center is organized to ensure that patients receive optimal cancer care.
---
Concept
Professional staff and the teams care for patients and their families
The TOBU Cancer center will establish a cross-sectional cancer treatment system that does not depend on clinical department in the hospital, and will provide optimal cancer treatment to each patient in cooperation with surrounding medical institutions in the region. .. We will respond to the voices of the local people with cutting-edge, body-friendly treatment and a full range of services.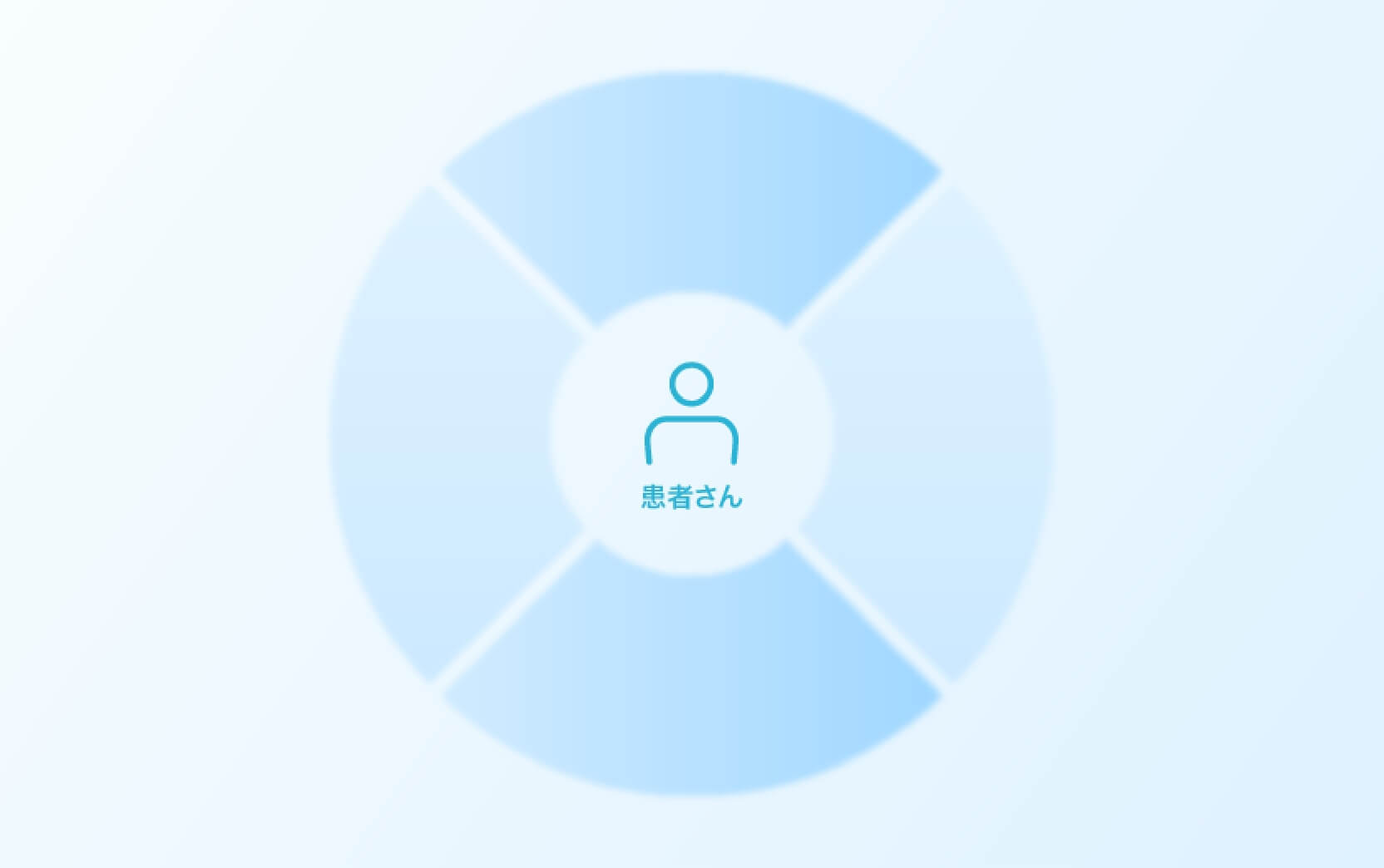 Cancer Support Center
Radiation Therapy Center
Prostate Treatment Center
Palliative Care Center
Cancer Nursing Outpatient
Cancer Nutrition Outpatient
Robotic Surgery Center
Patient Support Center
Chemotherapy Center
Pharmacist Outpatient
Interview video with the director of the TOBU Cancer center
The director of the TOBU Cancer center will explain the concept of this center.
Introduction of support system
Palliative care that begins when you are diagnosed with cancer
Our hospital holds "palliative care classes" twice a month, and staff familiar with each field explain each program in an easy-to-understand manner.
The contents are summarized in the digest VTR, so please have a look.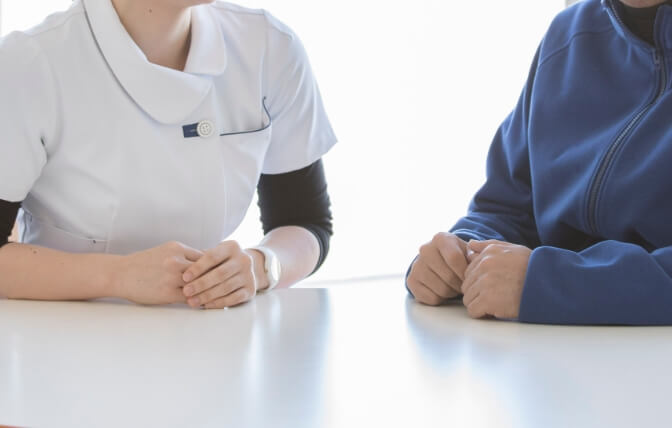 Cancer-Nursing Consultation
At the request of the clinical department, a specialist / certified Registered Nurse in the field of cancer is present at the time of cancer notification and treatment explanation. We listen to anxieties and worries and support patients and their families to make decisions so that they can alleviate the pain of patients and their families who receive cancer notification (initial onset / recurrence). increase. We help you improve and maintain your quality of life while helping you coordinate your treatment and recuperation.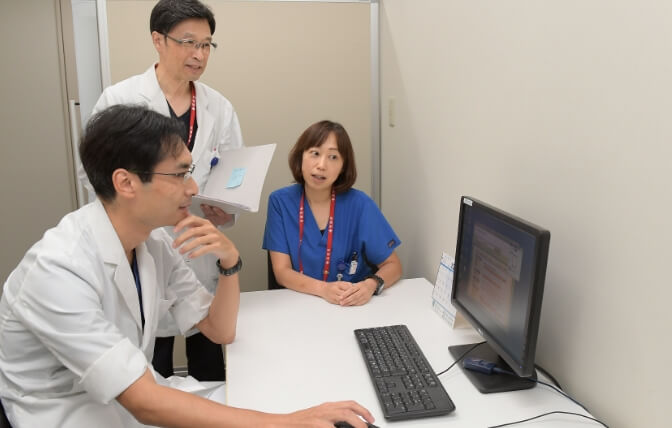 Cancer Pharmacist Consultation
At the outpatient department of cancer Pharmacist, Pharmacist specializing in cancer treatment support anti-cancer drug treatment with the aim of continuing treatment for patients.
Before treatment, in addition to the need for anti-cancer drugs, explain the treatment plan, side effect measures, daily life and costs, etc., and take effective measures for side effects such as nausea and skin disorders during treatment. We propose and provide safe and optimal treatment to each person in cooperation with doctors and Registered Nurse.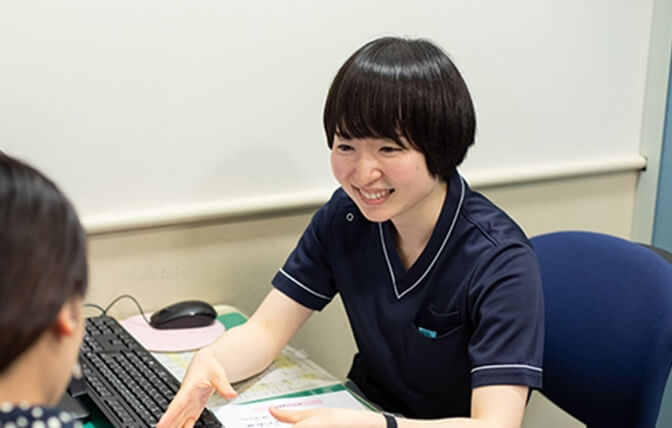 Cancer nutrition Consultation
Clinical Dietitian will provide full support for various dietary problems surrounding patients undergoing chemotherapy, such as "I can't eat", "I don't know the taste", and "I've lost weight".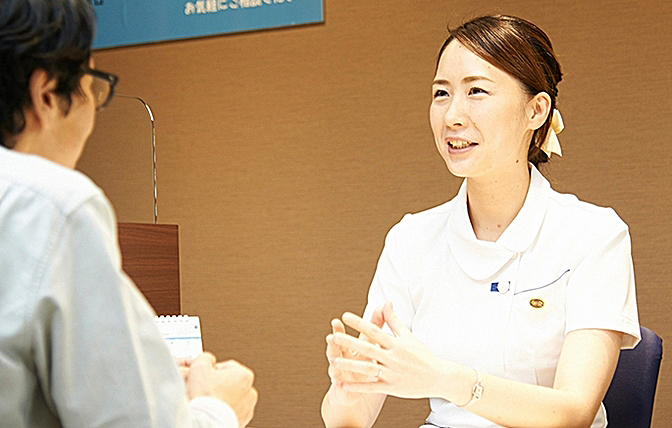 緩和ケア外来
当院の緩和ケア外来は、つらい症状のコントロールが必要な方を対象としています。主治医と連携して、がんの治療を行いながら、体と心の痛みやつらさをやわらげるためのケアを行います。
緩和ケア外来では医師・看護師が面談し、症状や困っていることを伺いながら、薬剤調整や生活支援を行います。患者さんの状況に応じて薬剤師・管理栄養士・MSW(メディカルソーシャルワーカー)・公認心理師等、緩和ケアチームにて介入させていただきます。
---
Treatment method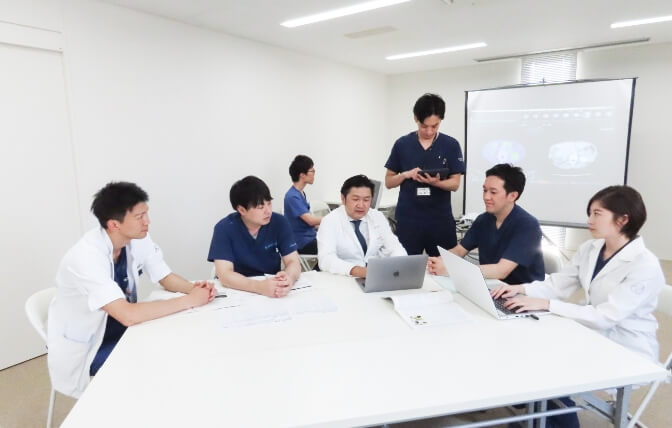 The best treatment
The TOBU Cancer center offers "standard treatment".
Standard treatment is not the average treatment, but the most effective treatment available at the time. The main treatments for cancer include surgery (surgery), radiation therapy, and drug therapy (chemotherapy), and how to treat them alone or in combination depends on the patient's condition and stage. ..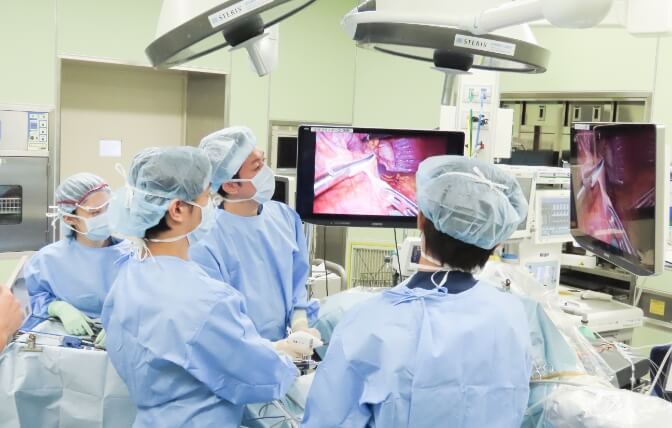 Surgery (operation)
Surgery is at the core of cancer care.
● What kind of patients should be operated on?
● What is the risk of surgery?
● Isn't it possible in a less invasive way?
And so on. We are focusing on minimally invasive surgery such as laparoscopic surgery and robot-assisted surgery in all cancer areas.
Annual number of operations for malignant tumors in 2020 1,306
(Regional Cancer Medical Cooperation Hub Hospital standard: 400 cases or more / year)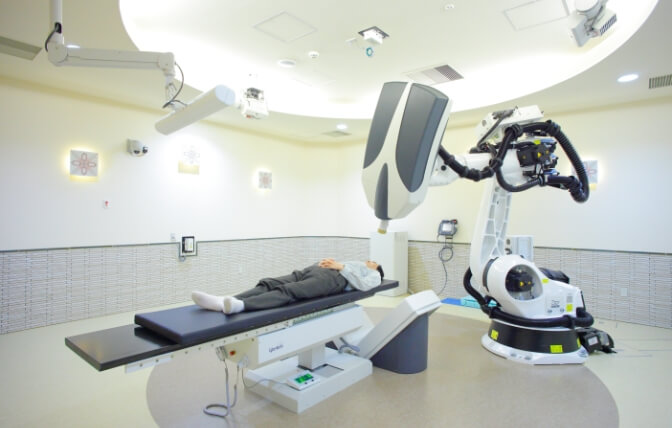 Radiation therapy
We are actively performing stereotactic irradiation of the trunk using the high-precision radiotherapy device Cyberknife. The number of cases of stereotactic trunk irradiation for lung cancer, hepatocellular carcinoma, and prostate cancer is one of the largest in Kanagawa prefecture.
From 2019, the latest linac has also started operation. I try to treat with few side effects.
2020 Radiation therapy Total number of patients 668 per year
(Regional Cancer Medical Cooperation Hub Hospital standard: 200 cases or more / year)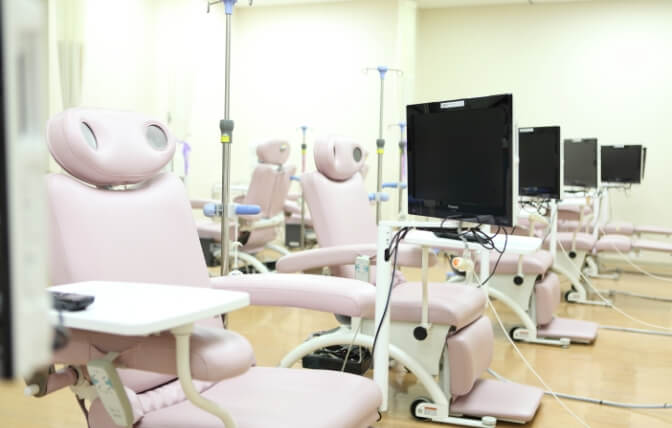 Pharmacotherapy (chemotherapy)
It is also used in combination with radiation therapy for 5 major cancers, head and neck cancer, and skin cancer.
Pharmacist and Registered Nurse with specialized knowledge specializing in cancer drug therapy check the patient's condition and provide appropriate care and advice in cooperation with various occupations when necessary.
2020 Pharmacotherapy Total number of patients 1,118 per year
(Regional Cancer Medical Cooperation Hub Hospital standard: 1,000 cases or more / year)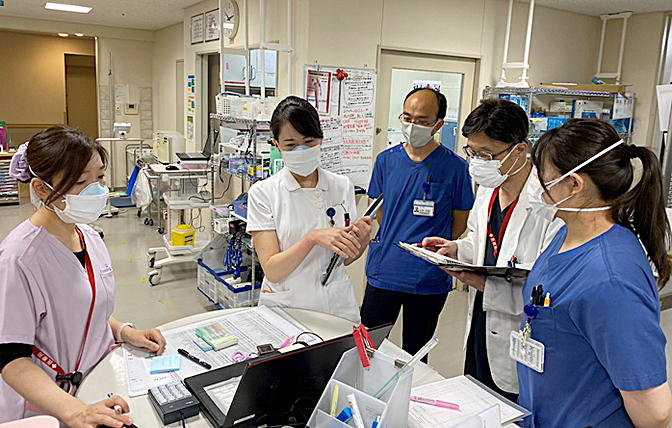 緩和ケア
がんと診断されると気持ちが落ち込むこともあります。また、診断を受けたとき、すでに痛みや息苦しさなどの症状がある場合もあります。
緩和ケアは、そのような気持ちの落ち込みや体の症状に対して、がんと診断された時から治療と並行して始まります。緩和ケアは、がんが進行してから始めるものではありません。がんの治療とともに、つらさを感じるときにはいつでも受けることができます。また、ご家族等もケアの対象です。
One step ahead of medical care with less physical burden
By providing tailor-made treatments tailored to each patient based on standard treatments based on evidence (scientific basis), we strive to provide peace of mind and satisfaction not only to the individual but also to the family. We are here.
To that end, we are always aiming for "medical care one step ahead" and have introduced the latest treatment methods such as the surgery support robot "Da Vinci" and the robot-type radiation device "Cyberknife". Furthermore, we adopted the concept of the "enhanced recovery after surgery (ERAS) program," which is a perioperative management program centered on patients that is being undertaken worldwide, and emphasized patient satisfaction. I am practicing the protocol.
Treatment flow of TOBU Cancer center
From the time you find out that you have cancer to the time you receive treatment and are discharged from the hospital, many professionals are involved and we will follow up on the patient.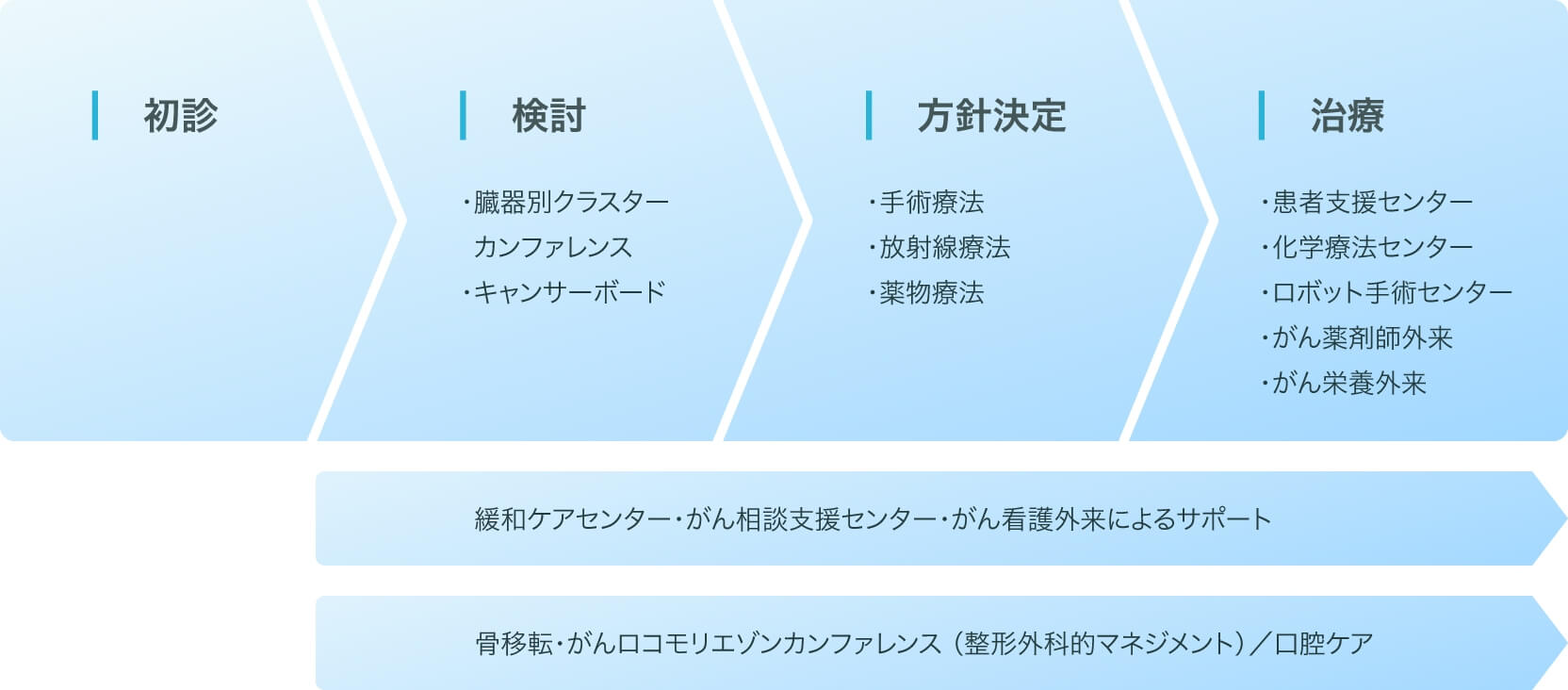 ---
Initiatives of the TOBU Cancer center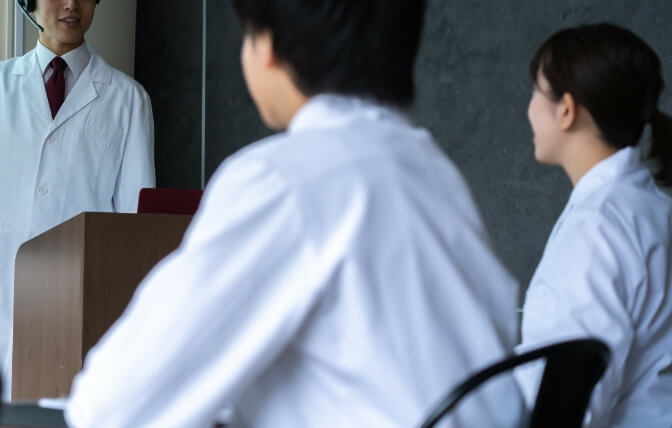 Cancer board
A cancer board is a study group held for the purpose of providing the best treatment for cancer patients.
The emergency cancer board is held when it is necessary to consider beyond the boundaries of clinical department such as cancer of unknown primary or double cancer, and the regular cancer board is for all medical staff involved in cancer treatment with knowledge and knowledge. We conduct case studies and lectures for the purpose of sharing information.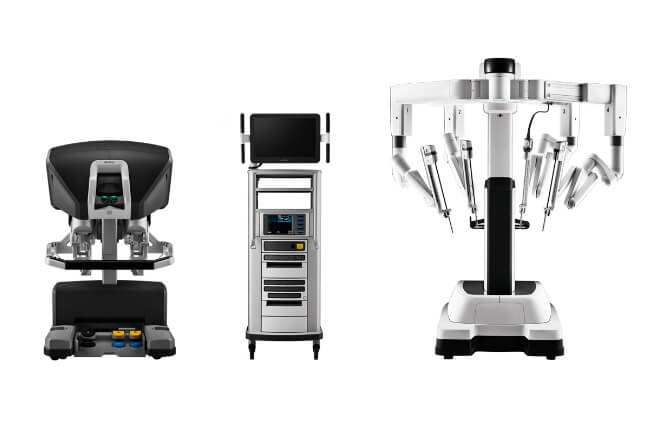 Robotic Surgery Center
Robot-assisted surgery enables precise and complicated surgical operations, making difficult operations safer. In addition, because it is the same endoscopic surgery as a laparoscope, it is a treatment that is kind to the patient's body.
We have been using the surgery support robot "Da Vinci" since 2012, and we have a cumulative total of about 1,000 cases.
Bone metastasis / cancer locomotive liaison conference
Early diagnosis / early treatment and subsequent Orthopedic Surgery management are important because the symptoms of bone metastasis and complications such as pain, pathological fracture, and spinal cord paralysis may reduce activities of daily living and worsen the prognosis.
In order to support patients with bone metastatic cancer, the diagnosis and treatment policies are examined and information is shared in multiple clinical department Radiation Oncology as Orthopedic Surgery, radiodiagnosis, Diagnostic Radiology, and Rehabilitation Medicine. We have achieved a decrease and maintenance / improvement of QOL (quality of life).
Organ-specific cluster conference
Even if a patient has "cancer", the circumstances differ depending on whether the appropriate treatment for that person is surgery, endoscopic treatment, or anticancer drug treatment.
At the organ-specific cluster conference, internal medicine, surgery, etc. will jointly decide on the optimal treatment for each patient for each organ.
The treatment policy is never decided by the personal opinion of the first-time doctor. It guarantees the quality of cancer treatment as a hospital.
Oral care
The oral cavity is an important organ for eating. The side effects of cancer treatment may appear as oral mucositis (stomatitis), but dry mouth and pain make it difficult to eat and lead to a decrease in QOL. It is important to take good oral care and keep the oral cavity clean.
Oral care to maintain oral function is an important supportive care for cancer treatment. The TOBU Cancer center works in collaboration with local dental clinics.
---
As a "regional Cancer Medical Cooperation Hub Hospital"
Regional and TOBU Cancer center
Surgery and radiation therapy require treatment at our hospital, but treatment of comorbidities such as hypertension and diabetes and follow-up after treatment are performed in cooperation with medical institutions so that patients can receive medical treatment near their homes. We have a system in place to provide long-lasting cancer treatment with as little burden as possible. In order to thoroughly exchange information between medical institutions, we are also striving to share information between patients and hospitals by using regional alliances passes.
Regional Cancer Medical Cooperation Hub Hospital
厚生労働省の指定する「地域がん診療連携拠点病院」として、専 門的ながん医療の提供、地域の他の医療機関との連携、がん患者さ んに対する相談支援、情報提供などを行っています。
---
Cancer Medical Cooperation Hub Hospital
Practice of PDCA cycle Efforts to improve the quality and safety of cancer treatment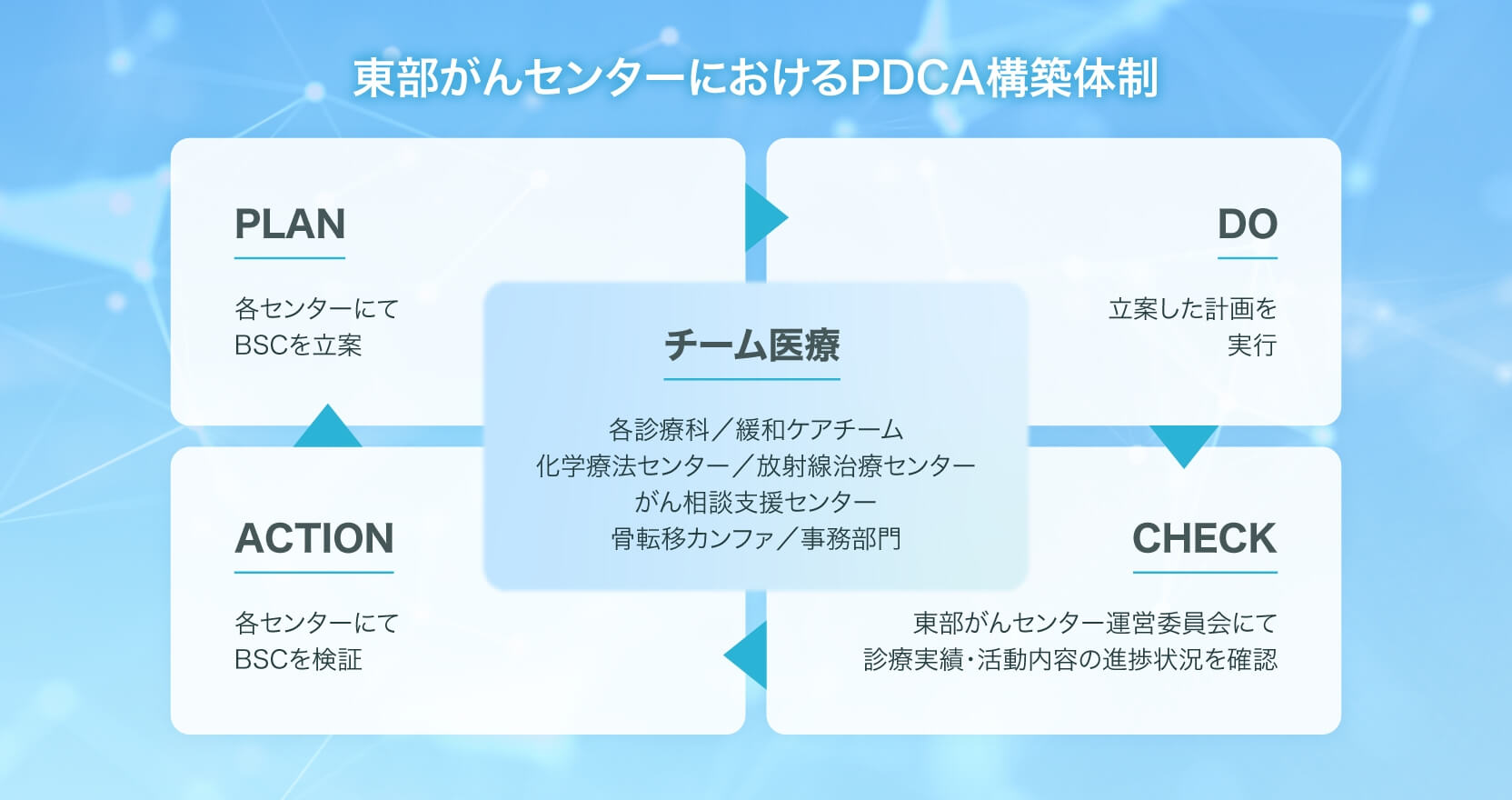 It is one of the management cycles that carry out the process of planning (plan), execution (do), evaluation (check), and improvement (action) in order, and by repeating this spiral process, quality is maintained, improved, and continued. The PDCA cycle is defined as the management method that promotes various business improvement activities. At our hospital, we use the PDCA cycle to grasp and evaluate the medical care function and medical care results of our facility, the results and activity status related to regional cooperation, as well as the quality of medical treatment life for cancer patients, and the people concerned in the hospital recognize the issues. After sharing, we are working on improving the quality and safety of cancer treatment and systematic improvement measures.
In-hospital cancer registration
Cancer registration is a patient who visits a hospital for cancer treatment for the purpose of understanding the number of cancer patients, morbidity rate, survival rate, treatment effect, etc., which are the basis of national cancer control. It is a mechanism to collect, understand and analyze information such as the treatment content, treatment effect and prognosis of. Cancer registration is indispensable as a basic material for providing accurate information to patients and for the next cancer control.
It is obligatory to carry out in-hospital cancer registration in accordance with the registration form designated by the government (Cancer Medical Cooperation Hub Hospital in-hospital cancer registration standard registration form (2016 version revised version)).
If you would like to know more about in-hospital cancer registration, please refer to the National Cancer Center Cancer Information Service "In-hospital Cancer Registration National Aggregation Results Viewing System (0-year aggregation)".
What is National Cancer Registration?
"National Cancer Registration" is the data of all people diagnosed with cancer in Japan.
It is a new system that aggregates, analyzes, and manages all of them in one country. This system started in January 2016.
What is in-hospital cancer registration?
The in-hospital cancer registration provides information about cancer in all patients diagnosed or treated in the hospital.
It is a survey that is collected throughout the hospital regardless of the clinical department and clarifies how cancer treatment is performed at that hospital.
The guidelines for the implementation of in-hospital cancer registration (Ministry of Health, Labor and Welfare Notification No. 470) states, "In order to accurately grasp the status of cancer medical care at hospitals, cancer patients at the hospitals are based on national cancer registration information. It is also necessary to collect information including detailed treatment status, record it in the in-hospital cancer registration database, and store it. "
* Survival confirmation survey work
In the in-hospital cancer registration, we grasp the progress of 3 years, 5 years, and 10 years after the diagnosis of cancer patients and create basic materials for calculating the survival rate. The work to grasp this progress is called a survival confirmation survey. The survey method is to check the outpatient visit status and provide information from the affiliated hospital, but if the treatment has been completed or the consultation at our hospital has not been continued due to a transfer or relocation, etc. We may ask you to inquire about your address, or we may ask you or your family to do a written or telephone survey. The information obtained by conducting this survey is epidemiological research and evaluation of cancer medical care, such as notification of survival rate totals by in-hospital cancer registration and all cancer cooperatives (National Cancer [Adult Disease] Center Council). It is useful for national cancer control.
Click here for the target cancer list page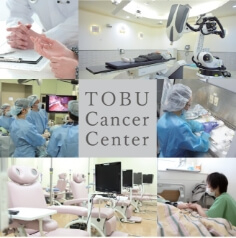 A compact introduction to our cancer treatment.